Tri State Corner: New Album, first chart entries and 33 support shows with AXXIS and RAGE in 2014 
Tradition, Aggression, Emotion!
TSC stands for a Bouzouki Rock Band with members from the three countries Germany, Poland and Greece. They mix hard Rock  tunes with sensitive sounds of the traditional Greek Bouzouki and created a new and innovative style – a unique style.  After 300 Live  Shows in 22 Countries on 3 Continents and 3 Releases, the five musicians fixed their position in the Rock Music environment.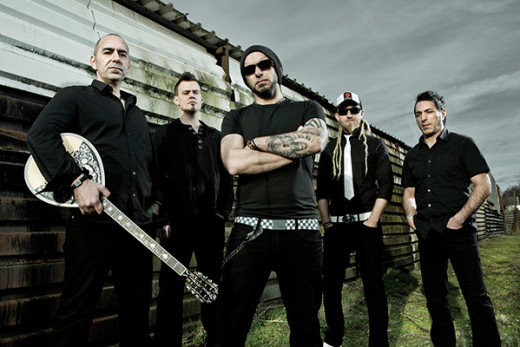 They shared big stages with Bands such as Nazareth, The Sweet, Mothers Finest, Avantasia, Donots, HOBlockx, Krypteria or Demon,  were present in many TV & Radio shows as well as Magazines, won several Music competitions and were produced by multi  Platinum producers such as Fabio Trentini (Guano Apes, H Blockx etc.) or Tony Bongiovi (Ozzy Osbourne, Scorpions etc.).
In 2013 the German Rock Label DRAKKAR ENTERTAINMENT / SONY saw the potential, took the chance and signed the Band. Their  Album HISTORIA was reOrelease on a European level in 2013 with DRAKKAR / SONY followed by a Tour throughout Germany  supporting the Rock monsters LORDI. After a busy Festival Summer 2013, the Band formed their 3rd Album called "Home" produced  by TSC and Dirk Ulrich (Broilers, James LaBrie (Dream Theater) etc.).  On the 23.05.2014 "Home" was released on a worldwide basis  – at this time their single "Beside you" released in March 2014, appeared in 14 countries top 20 in the iTunes Charts.
05.04.2013 – Tri State Corner – Historia (DRAKKAR / SONY)
23.05.2014 – Tri State Corner – Home (DRAKKAR / SONY)
support shows in 2013 promoting "Historia":
the Sweet:
28.02.2013, Poland, Katowice @ Megaclub
01.03.2013, Poland, Zakopane @ Dworzec Tatrzanski
Lordi:
03.04.2013, Germany, Hamburg @ Markthalle
04.04.2013, Germany, Geiselwind @ Eventhalle
05.04.2013, Germany, Memmingen @ Kaminwerk
06.04.2013, Germany, Offenbach Bieber @ TV Turnhalle Bieber
07.04.2013, Germany, Mannheim @ Alte Seilerei
11.04.2013, Germany, Cologne @ Essigfabrik
12.04.2013, Germany, Burglengenfeld @ VAZ
13.04.2013, Germany, Leipzig @ Hellraiser
14.04.2013, Germany, Berlin @ K 17
Nazareth:
20.04.2013, Poland, Breslau @ Od Zmierzchu Do Switu
21.04.2013, Poland, Krakau @ Kwadrat Club
23.04.2013, Poland, Lodz @ Dekopresja
24.04.2013, Hungary, Budapest @ Club 202
Tanzwut:
 18.10.2013, Germany, Wuppertal @ Live Club Barmen
19.10.2013, Germany, Aschaffenburg @ Colossaal
A month prior to the new Album release in 2014, Tri State Corner supported the German Rock Legends AXXIS:
AXXIS:
26.03.2014, Germany, Wuppertal @ Die Börse
27.03.2014, Germany, Bremen @ Aladin
28.03.2014, Germany, Hamburg @ Logo
29.03.2014, Germany, Berlin @ KO17
30.03.2014, Germany, Bruchsal @ Fabrik
03.04.2014, Germany, Nürnberg @ Rockfabrik
04.04.2014, Germany, Regensburg @ AirportOObertraubling
05.04.2014, Germany, Memmingen @ Kaminwerk
06.04.2014, Switzerland, Pratteln @ Galery
07.04.2014, Germany, Augsburg @ Spectrum
10.04.2014, Germany, Soest @ Alter Schlachthof
11.04.2014, Germany, Siegburg @ Kubana
12.04.2014, Germany, München @ Backstage
13.04.2014, Germany, Ludwigsburg @ Rockfabrik
14.04.2014, Germany, Aschaffenburg @ Colossaal
After some further Festivals in Summer 2014, TSC supported the Metal Kings RAGE on their 30 years anniversary Tour throughout Europe (Ex Band from TSC Drummer Christos Efthimiadis) to further promote the new release:
RAGE:
03.09.2014, Germany, Osnabrück @ Lagerhalle
04.09.2014, Germany, Ludwigsburg @ Rockfabrik
05.09.2014, Germany, Andernach @ JUZ
06.09.2014, Germany, Burglengenfeld @ VAZ
23.09.2014, Belgium, Vosselaar @ Biebob
24.09.2014, Germany, Bochum @ Zeche
01.10.2014, Hungary, Budapest @ A38
02.10.2014, Austria, Wörgl @ Komma
03.10.2014, Germany, Steinheim @ Stadthalle
04.10.2014, Germany, Burgrieden @ Riffelhof
05.10.2014, Germany, Aschaffenburg @ Colossaal
06.10.2014, Germany, Hamburg @ Markthalle
07.10.2014, Germany, Bremen @ Aladin
08.10.2014, Germany, Köln @ Essigfabrik
10.10.2014, Germany, Speyer @ Halle 101
11.10.2014, Czech Republic, Zlin @ Masters of Rock Cafe
12.10.2014, Slovakia, Bratislava @ Randal Club
13.10.2014, Germany, Augsburg @ Spectrum
The following links will lead you to the bands Videos and Social Networks:
Home (Album: Home)
http://www.youtube.com/watch?v=pEPhzpGnTz0
Beside you (Album: Home)
http://www.youtube.com/watch?v=ul2MD4mafd4
Sooner or Later (Album: Historia)
http://www.youtube.com/watch?v=GWfaqPu3iUk
Sleepless (Album: Historia)
https://www.youtube.com/watch?v=u7_tcAtfgUE
Social Network
www.tristatecorner.com
www.youtube.com/tristatecorner
www.facebook.com/tristatecornermusic
twitter.com/TriStateCorner